SEVEN HERBS- Apple Chips (Keripik Apel) 150 gr
Rp93.800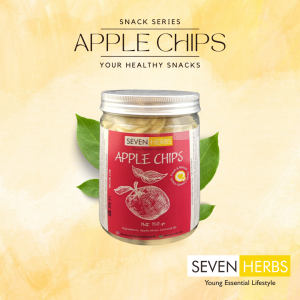 Compare
Description
SEVEN HERBS SNACKS- KERIPIK APEL (panggang oven) 150 GR
Keripik Apel dibuat dengan potongan apel yang diolah dengan dipanggang di oven dengan suhu tinggi menggunakan minyak kelapa yang merupakan pilihan lebih sehat. Selain jajanan yang sehat, manfaat keripik apel sangat banyak seperti:
– Menurunkan tekanan darah
– Meningkatkan immun tubuh
– Baik untuk kesehatan jantung & masalah pencernaan
– Kaya akan vitamin
Komposisi: Irisan Apel Segar, Minyak Kelapa
Cara Konsumsi: Sebagai keripik camilan, teman minum santai.
————————————————————————————————————————————-
SEVEN HERBS SNACKS- APPLE CHIPS oven-baked 150 GR
Apple Chips are processed by OVEN BEKED METHOD, using coconut oil as healthier alternatives during the process. Aside being a health-friendly snack, coconut chips have lots of versatile benefits such as :
– Reducing Blood Pressure
– Boosts immune system
– Good for the Heart & digestives problem
– High in Vitamin
Ingredients: Fresh Apple slices, Coconut Oil
Consumption Method: As snacks, snacks as tea/drink companion.